Bravo Hawking for speaking up to improve your country and our planet!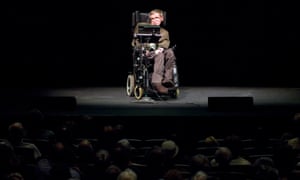 Like many people, I have personal experience of the NHS. In my case, medical care, personal life and scientific life are all intertwined. I have received a large amount of high-quality NHS treatment and would not be here today if it were not for the service.
The care I have received since being diagnosed with motor neurone disease as a student in 1962 has enabled me to live my life as I want, and to contribute to major advances in our understanding of the universe. In July I celebrated my 75th birthday with an international science conference in Cambridge. I still have a full-time job as director of research at the Centre for Theoretical Cosmology and, with two colleagues, am soon to publish another scientific paper on quantum black holes.
Last year my personal experience of the NHS and my scientific life came together when I co-signed a letter calling for healthcare policy to be based on peer-reviewed research and proper evidence.
Opinion polls consistently show a majority in favour of a publicly provided NHS, and opposed to privatisation and a two-tier system. Therefore, the best way to support the NHS is to empower the public. There are two priorities. First, clear information that public provision is not only the fairest way to deliver healthcare, but also the most cost-effective. Second, a loud voice and the political power to make politicians act on our behalf.
If that all sounds political, that is because the NHS has always been political. It was set up in the face of political opposition. It is Britain's finest public service and a cornerstone of our society, something that binds us together. People value the NHS, and are proud that we treat everyone equally when they are sick. The NHS brings out the best in us. We cannot lose it.
See the full article here:  https://www.theguardian.com/commentisfree/2017/aug/18/nhs-scientist-stephen-hawking