This is amazing – how to grow produce in a cold climate – in FREIGHT CONTAINERS!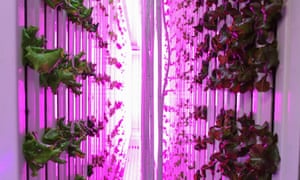 The inspiration for Freight Farms, an urban farming business headquartered in South Boston, was launched after co-founders and friends Jon Friedman and Brad McNamara realized that New England currently gets almost 90% of its food from outside the region, yet 10-15% of households still report that they don't have enough to eat. The over reliance on imported produce drove Friedman and McNamara to launch a Kickstarter campaign in 2011 for their farming business, which sells freight containers to would-be farmers, many of whom aren't necessarily farmers by trade, but are interested in contributing to sustainable living. A Freight Farms container is designed to be largely self sustained, and uses solar energy to provide the majority of electricity required to grow the crops. Julia Pope, who works in farmer education and support at the organization, says people can find the freight containers squeezed between two buildings, in a parking lot, under an overpass, or virtually anywhere in the modern urban terrain.
Freight Farms has spread north from Boston to Canada, and Pope says there are just over 100 of the company's container farms operating in the US alone. The company outfits each 40ft container with the equipment for the entire farming cycle, from germination to harvest. This equipment, which the company calls Leafy Green Machine (LGM), creates a hydroponic system, a soil-free growing method that uses recirculated water with higher nutrient levels to help plants grow. Vertical growing towers line the inside of the shipping container, with LED lights optimized for each stage of the growing cycle. Farmers can manage conditions remotely using a smartphone app called Farmhand, which connects to live cameras inside the container.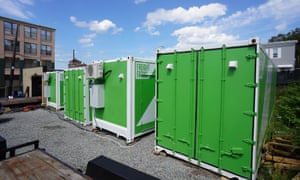 Pope says that of customers who have purchased the LGM, more than 50 have started small businesses, each consistently producing two acres worth of food year-round. One of these businesses is Corner Stalk Farm, which sells locally grown leafy greens – including kale, mint and arugula, as well as more than varieties of lettuce, to cater to demand at various farmers markets in Boston and Somerville, the city's landmark Boston Public Market, and through orders from produce delivery services (such as Amazon Fresh) that are increasingly popular in cities. It's no small feat to own and operate the LGM: purchasing one of the containers will run an aspiring business $85,000, with operating costs adding up to another estimated $13,000 per year.
Read the full article: https://www.theguardian.com/sustainable-business/2017/apr/16/boston-organic-food-farming-agriculture-startups